I took a poll on Linkedin about geofencing for nonprofits in the Social Media for Nonprofit Organization group. The survey ran for two weeks to give enough time for people to see and respond. Albeit, only seven people answered the geofencing survey, it gave a tiny bit of insight about the state of geofencing as a marketing tool or for other business applications for nonprofits. Below is a screenshot of the question I asked.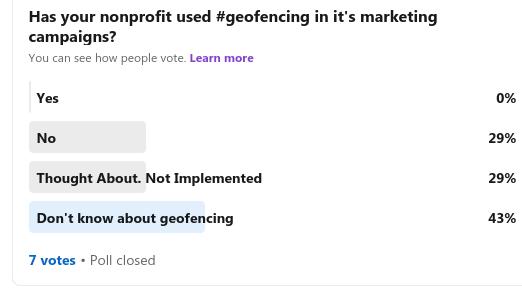 The poll was also accompanied by several open ended question where thought leaders could add input about geofencing for nonprofits. I have proved the questions in the next session. There are many questions that are unanswered from this survey. Hopefully, over time I will be able to gather more data.
Help further the discussion about geofencing for nonprofits:
I am going to make some broad assumptions and generalizations about geofencing for nonprofits. If anything I say is wrong or you want to add to the conversation, leave me a detailed email message. I may feature response within this post! You can also response to the post in Twitter or on Linkedin.
If your nonprofit has used #geofencing with social media ads or pay per click ads, describe how your organization used it, the purpose, and if geofencing meet the organization's goals.
If your nonprofit has a mobile app, does the mobile app use #geofencing to connect your users? If so how, and what are the types of messages that you send (SMS text, Multi-media text messages, donation reminders or appeals, appointment reminders, etc)?
How can location based marketing assist nonprofits with increasing donations or to promote the organization? How can personalization be used to connect with these audiences?
What are some interesting nonprofit use cases of geofencing?
Here's a link to the geofencing conversation on Linkedin
If your provide your Twitter handle, you may get a response back from @tweetgirlmem. I will follow you back.
What is geofencing?
None of the seven people who answered, responded "Yes" to using geofencing in marketing campaigns. 3 out of 7 of the people do not know about geofencing. Here's a simple explanation of geofencing.
A geofence is a virtual perimeter for a real-world geographic area. A geofence could be dynamically generated—as in a radius around a point location, or a geofence can be a predefined set of boundaries (such as school zones or neighborhood boundaries) or defined by longitude and latitude.
The Android Developer documentation explains how geofencing works. But the information is complex and you need to be a developer to create an app with geolocation capabilities.
Geofencing combines awareness of the user's current location with awareness of the user's proximity to locations that may be of interest. To mark a location of interest, you specify its latitude and longitude. To adjust the proximity for the location, you add a radius. The latitude, longitude, and radius define a geofence, creating a circular area, or fence, around the location of interest.

—Android Developer Docs
Geofencing is a location based marketing strategy that uses mobile device ids to send push notifications and ads to a person's mobile device. The mobile ids are usually collected from an app (Youtube, mobile browser, organization's app, etc.).
What has prevented nonprofits from using geofencing as a marketing strategy?
I am going to outline five barriers I think nonprofits face with using geofencing as a marketing strategy.
Barrier #1 – Good Old Technology
Geofencing technology is actually hard to understand. Understanding the tech requires a deep dive into mobile application programming (Android's code documentation). The nuts and bolts of geofencing are buried in source code that will require a developer. In general, there are three ways geofencing can be achieved.
The first approach is by far the most expensive, laborious, and strategic – building a mobile app for a nonprofit. The process involves using the underlying hardware and code to enable built-in GPS tracking or beacon tracking (RFID) in the own app.
Here's are other ways to track a user's location within a geofence:
Location inferred from network signals such as IP address,
WiFi and Bluetooth MAC addresses,
GSM/CDMA cell IDs
User input.
However, a huge con for nonprofits would be app promotion and driving downloads. Two additional drawbacks are time and expense (which is discussed next). You have to build for every major mobile phone operating system. Nonprofit could possible see a huge backlash if they don't handle privacy well with this technology.
There are three pros for nonprofit's developing their own app. The first pro is that the app can be used to send personalized push notifications to stakeholders who enter a geofence barrier. You can send offers or reminders to users who enter a geographic location. The second pro is that the nonprofit gets full control of the app and can do what you want to engage stakeholders. The last pro, the nonprofit 100% owns any data the app collects. Data is a valuable asset that big corporations pay millions of dollars to collect.
If your nonprofit makes the decision to build an app for geofencing purposes, read the Android documentation on geofencing best practices or iOS Region Monitoring. Remember, the value of the data collected from an app is immeasurable, unique, and priceless to a nonprofit.
The second way is use use another apps geofencing to push notifications or ads to people who cross a geographic barrier. This will require creating strategic partnerships with mobile app designers and other businesses.
The final way, is to use a geofencing company who has advertising relationships with mobile apps, Google Ads, and other geofencing companies.
Barrier #2 – Money- Geofencing Marketing Cost
How expensive is geofencing? It's may not cheap based on the audience you need to target. Depending on a nonprofit's marketing goals, the marketing cost could easily be in the 5 digit range per month. ($10,000 or more). However, locally based nonprofits have an advantage. You can only geofence locations and the target audience you want and no one else. Audience data can be constructed from a number of sources including a CRM, fundraising database, or other analytics programs.
Nonprofits have the ability to narrow their audience with geofencing. Nonprofits may run into the financial barrier, if they need to find a new audience for geofencing. Geofencing is not exclusively used for marketing campaigns. There are also unique use cases to use geofencing for other business purposes.
Barrier #3 – Lack of Education About Geofencing
Geofencing is not a new advertising or marketing strategy. It's actually old. Any mobile phone user that has location tracking turned on, has the potential to be targeted geographically. Phones based on the Android Operating System or Apple iOS have the location based capabilities. Mobile users who are conscious of privacy and location based targeting turn the feature off. There is no way to push personalized notifications to these users. If you use Google Driving or Maps App for directions, you are using the location based tracking feature.
Barrier #4 – Don't Know When To Use A Geofence
Take a look at your current business processes. I am sure there are a number of ways you could improve user experience across your nonprofit organization. Geofencing can be used for the Internet of Things (IOT) or any device that's controlled via bluetooth, Wi-Fi, or other network. I have seen a lot of recommendations to for asset management and tracking using geofencing.
Barrier #5 – Don't Want To Make Stakeholders Feel Alienated
I already mentioned privacy as a barrier to geofencing. Some people may find personalized mobile push notifications intrusive and creepy. Everyone has their personal opinions about it. For me, I think there are specific use cases that won't alienate your stakeholders.
We are in a data driven world where your CRM and fundraising systems can affect marketing campaigns. Don't get greedy collecting the wrong information or pushing marketing messages people don't want to see or hear. For example, constantly sending daily notifications for donate makes a bad user experience. One negative affect of overusing geofencing is the risk of losing app users and high uninstalls.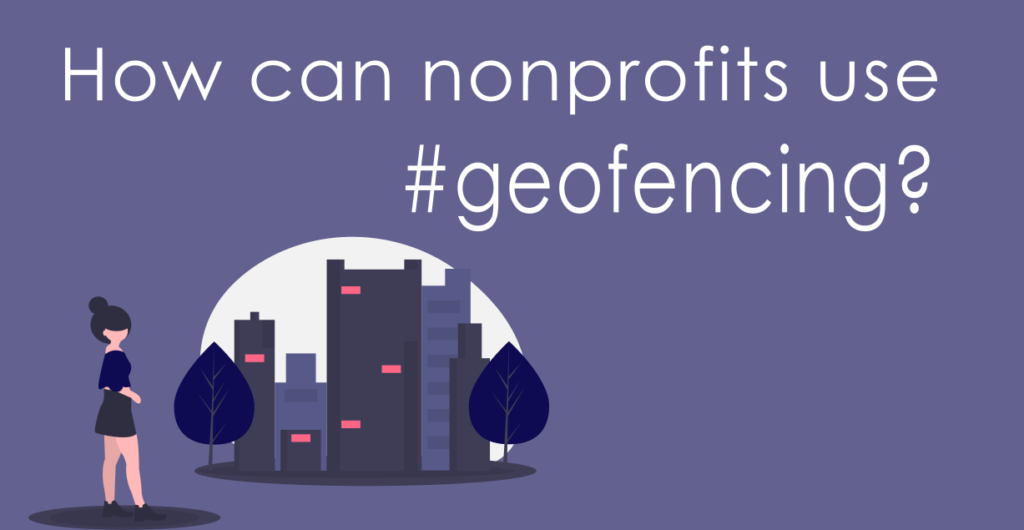 8 Location Based Targeting (Geofencing)Examples For Nonprofits
Here are eight geofencing use case examples. Outlined are a few strategies nonprofits can implement to improve workflow processes:
1) A food bank can use an app to ask people to sign up for food pickups. At pickup time, the food bank can send push notifications to the user's mobile device to learn when the user enters the geofence. The app can send back user data to the food bank.
2) Health nonprofit can create an app that lets clients schedule appointments via the app. When the user enters the geofence, a mobile notification can begin a check in process.
3) Nonprofits can use push notifications to send target donation messages to users.
4) Nonprofits with ride-share programs can send notifications that that transportation is within a mile away. This reduces pick up and wait times. Kind of like Uber does.
5) A team of students created a mobile application that alerts CPR certified volunteers to nearby cardiac arrest incidents. The app uses geofencing to find first responders near the person in cardiac arrest and notifies first responders. Then the responder can help the person, until an ambulance arrives.
6) A marine organization uses a Vessel Monitoring system which uses geofencing to triggers notification when a vessel crosses the boundary. The collected data is used for predictive policing on the ocean.
7) Using geofencing to create geocaching games that engage users with nature or the environment. Geocaching can also be used to promote exercise programs.
8) Museums can make better use of beacon technology to target users with blue tooth signals. A museum display can target people who within 5 feet of an exhibit. The exhibit can enhance the user experience by sending audio or video content user's device. The technology can also provide additional links for the user to explore later.
Is geofencing free to use and what are the marketing cost?
Nonprofits will need to invest money into geofencing, so in the long term geofencing is not free. Mississippi Votes invested at least $30,000 into their geofencing campaigns. However, the data collected allowed the organization the to infer information to pose new questions.
The marine organization uses geofencing technology that cost $150,000 to $300,000 to install. The installation does not cover maintenance or any other technology cost.
How nonprofits can use geofencing in paid advertising.
Wikipedia defines cross-media marketing is a form of cross-promotion in which promotional companies commit to surpassing traditional advertisement techniques and decide to include extra appeals to the products they offer.
Nonprofit can use geofencing to cross market their nonprofit on a number of platforms.
Cross marketing can be used to create an online community to foster a nonprofit's mission. The community can influence others (such as their friends and family) to engage with the community, thereby extending the nonprofit's reach and build lasting relationships.
Mississippi Votes used targeted geofenced notifications to get-out-the-vote campaign during 2018 election year. The mission of Mississippi Votes is to get young African Americans invested in the elections through their mobile devices.
Social Media Geofencing For Nonprofits
Facebook geofencing can help nonprofit target an audience who enter a specific location. Targeted Facebook ads can help increase the number of people who see your Facebook fundraising campaigns. For example, GivingTuesday campaigns on Facebook can use location based advertising to send personalized ads and appeals to users.
Conclusion
That's all I have for today. I do have more information to add. You can always add your input via social media or by emailing me.
Jodie Mason, M.P.A.