Get your free downloadable nonprofit content marketing template strategy guide. The template has a total of 32 pages, which will help a nonprofit outline simple to complex content for their website or for fundraising. Goals sections will help outline the goals and key performance indicators.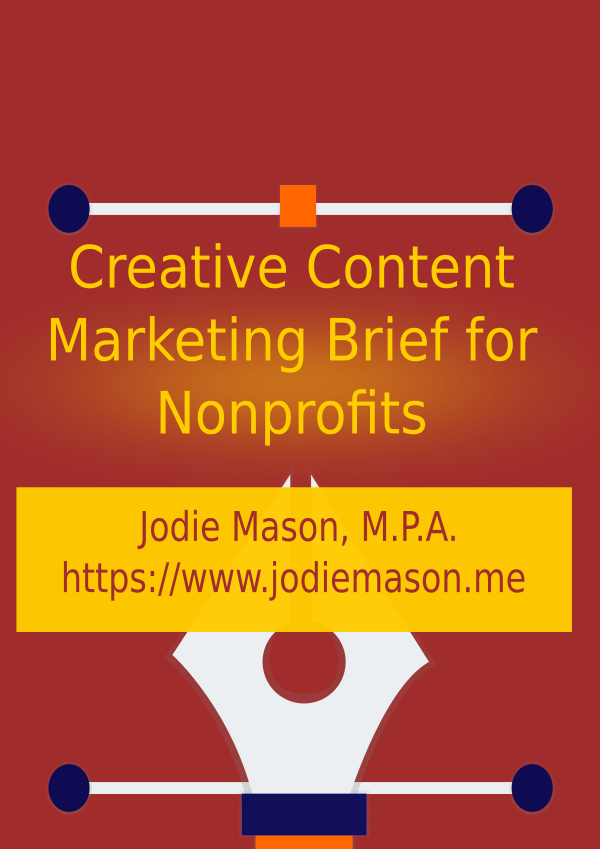 # 1 Tool For Your Nonprofit Marketing Toolkit
Content marketing brief websites can cost at least $18 per month. Jodie has outline a content brief to help you analyze whether the marketing strategy you have devised will work for your nonprofit organization. Videos, podcasting, whitepapers, and research studies are expensive pieces of content.
Don't go into marketing for your nonprofit blindly. The first two pages are to help gather critical information to outsource content. The other remaining pages in the content brief guide are to help find the strengths and weaknesses. You will discover the internal or external resources for your content marketing strategy.
Ways A Nonprofit Can Use The Marketing Template
Use the brief to develop complex social media post for fundraising.
Use the brief to brain storm Youtube video ideas for your nonprofit organization.
Plan a Twitter marketing strategy around a topic.
Create a Facebook Fundraising Strategy for Giving Tuesday.
Develop an email marketing strategy to engage donors.
Brainstorm ideas for content marketing for your nonprofit's website.
Understand how Search Engine Optimization, lead generation, and donor cultivation plays a key role in long term fundraising.
Find and hone in on better target audiences for your nonprofit's content.
Discover how content marketing can help raises awareness of your brand and mission.
Outline your Google Ad Grant's Marketing Strategy
How To Write A Nonprofit Marketing Plan
If you have been asked to write a nonprofit marketing plan, the content marketing brief will give you a ton of hints at what goes into a marketing strategy. Standard marketing templates are too generic and not specific enough for a nonprofit. Every nonprofit has different marketing needs. That's one reason you will not find a nonprofit marketing strategy template to fit your organization's needs. You can try to patch a plan together but it won't be the best solution. Write the plan with your nonprofit's goals in mind.